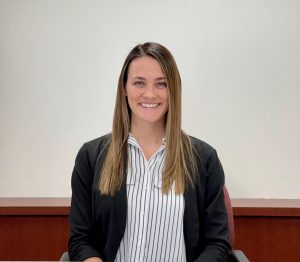 Taryn LoPresti is the newest staff member at Technical Solutions Inc. and this week she celebrates her one-year work anniversary. For Taryn, the past year has been filled with many exciting things: she recently celebrated her first year of marriage to her husband Mike, and the two bought their first home.
When not at work, Taryn enjoys watching a good movie or tv series, and hanging out with friends, family and her husband. She likes to relax on her back porch with a nice glass of wine. Something that most people don't know about Taryn is that she is deathly afraid of snakes. Unfortunately, her new back yard has had the occasional one pop up. Luckily, they aren't dangerous, only garden snakes.
Growing up, Taryn wanted to be an actress; then a forensic pathologist as she got older. Her hatred of chemistry and math stopped her from pursuing that path. Later in life she decided to enter the healthcare field. Taryn earned an Associate Degree in Diagnostic Medical Sonography from CCAC, and was an Ultrasound/MRI Technologist for about three years. Although she enjoyed working with patients, she wanted to transition into the business side of things. That's when she decided to pursue a Bachelor's Degree in Human Resources Development from Indiana State University. She is finishing up her last semester and will graduate this December. Between her online courses, working full-time, and balancing her personal life, Taryn really has her hands full. But even Taryn describes herself as determined and a perfectionist, so if anyone can get it all done, it's her.
Before working at TSI, Taryn says the best job she's ever had was working at a small frozen yogurt shop in Indiana. Each day she received one free frozen yogurt. Her current role as a professional recruiter may have less treats, but it's significantly more rewarding. Taryn enjoys that there is always something to learn, whether it be from a client or candidate. She also enjoys how much more confident she feels in her role from when she first started.
Taryn applied for her position at TSI because she was interested in recruitment. "I was applying to any roles I could find, hoping someone would take a chance on me, even with no prior experience," she said. When looking back to her first few days here, she recalls being nervous. She said, "I remember thinking I had so much room on my desk… now it's not big enough!"
If given the opportunity to trade places with a college for one day, Taryn says she would choose Dan Crawford (Sales Manager) or Jeff Mauser (Recruiting Manager/Account Executive) because they are both very knowledgeable about the industry – especially engineering. "That's a field I would like to become more knowledgeable in, as I feel it would make me a better recruiter," she said. However, the knowledge that Dan and Jeff have gained didn't come overnight. Dan has over thirty years in the business, and Jeff over twenty. She may not recognize it yet, but even at only one year, Taryn is doing pretty well for herself, and many of her candidates would agree:
"Taryn was fantastic and super helpful! She found me lots of great interviews very quickly and would always check in to see how they went. Thanks to her I found my current job that I love!"
Taryn LoPresti is an excellent person to work with. Very well detail oriented. Great communication skills. She kept me informed around the clock and even stayed in touch after I was offered and started my new job. She made it a very stress free and easy process. I'd give her more than 5 stars if I could. Thanks again for all your help and hard work Taryn!!!!
In her short time at TSI, Taryn has learned that no matter how much you think you know, there's always more room to grow and learn. Taryn's hard work and determination is what makes her a great recruiter and an excellent addition to the TSI team.